1997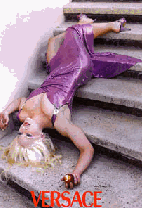 I had a cigarette (illegally outside the side entrance) with a guy I found out to be Andrew Cunnanan .
He was up from San Diego with one of his wealthy benfefactors (duh lovers!).
I was talking about the hotel and he said he felt a little unsettled here.
Then a rich woman walked by in a disgusting Versace dress and I said how he ought to be purnished
for making something that tacky. The dude split and shows up on the news a couple of weeks later killing himself and Versace - tell me that's not fucked up! It was just one dress!
- Emily Bishop