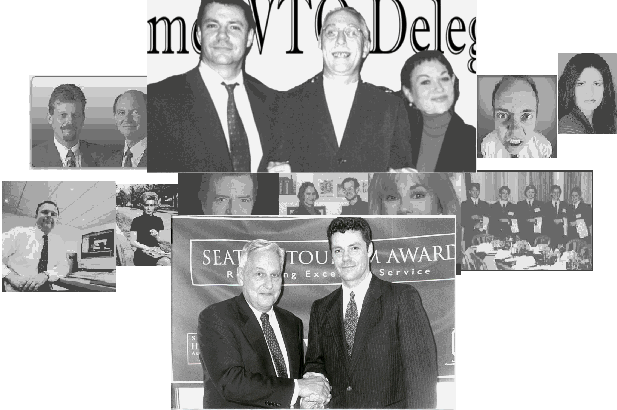 TOP: At a pre-WTO Reception in the Pioneer Room, General Manager, (seldom seen in the daylight) Paul Lewis, recognized assistant Front office manager, Tad Galloway and assistant director of Housekeeping, Emily Bishop, for outstanding service in the management training program.
BELOW: Mayor Paul Schell congratulates Tad for outstanding service to tourism for the city as well as for his work with unwed mothers. He joked that Tad would be his heir apparent.
After two weeks gone missing from their mansion home, Tad and Emily reappeared in different form. They rented a nice sublet, became vegetarians and worked out at a downtown gym. They only had an occasional chardonnay when they dined in quaint bistros with coworkers who shared their career paths. They began speaking in corporate jargon and stopped hitting on cheap street trash for dates. They left all of their old belongings including the material that would become this web site behind along with their dirty laundry and some fast food wrappers. They never spoke to their old friends including their close associate, hotel concierge, Peter Delvecchio. Peter transferred to the Philadelphia property shortly after but quit just prior to the Republican convention of 2000. He spent the next several months sifting through the notes and photos to assemble this web site. He felt that he story had to be told and it was a welcome escape from downloading porn really slowly.
The whereabouts of Michael Andrews remains unknown. His parents were disturbed that they wouldn't put his face on a milk carton and blame themselves (although they always felt he'd be trouble with those crazy musician schemes of his!!!) Some claim they saw him at the Puyallup Fair outside of the Def Leppard show - but they were pretty buzzed.