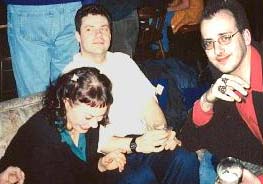 So allow me to introduce myself in first person, I'm that handsome chap on the right of Emily and Tad - before their transformation.
You may think this is all a bunch of urban folklore made to amuse you or to give you a scare, you may not care and go back to E-bay.
But I had to get it all down - I had to tell the world what I know.
As for Michael, I'd like to think that he's making his way down the old Mississippi on a paddle wheeler -
happy to have escaped near death and full dehumanization as so many who have toiled or dwelled on that haunted piece of rock where the hotel stands have...

In any case, forgive the crude construction of this site, the profanities and of course the full frontal nudity (webmaster note: Sorry this is the Net-Nanny version).
I will leave you by returning to my own journal, as I wrote my thoughts on my departing flight into the sunset of rain clouds - never to return to Seattle.
I again speak of myself, in second person - as I was trying to come to terms with the whole hotel experience:
He thought of that foolish guest singing "Purple Rain" by the artist formerly known as Prince, perhaps she too would be the hotels next casualty - he had caught her haggard look. Poor shameless tourist! She too would soon be find herself sharing a bunk with Kurt Cobain and Bruce Lee. He could see the family sobbing and people in desperation trying to find some words to console them, only to find lame useless ones. Yes, yes that would happen again very soon.
He learned his head against the jets' window and in the partial darkness he imagined that he saw the form a young man standing in the dreaded earth of a hotel foundation. Other forms were near. His soul had approached that region where dwell the vast hosts of the dead. He was conscious of, but could not apprehend their wayward and flickering existence.
The roar of the jet engines made him turn to the window.
It had begun to rain again.
He watched sleepily as the silver water was forced up against his window...