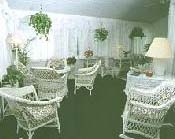 Wicker Patio Furniture has become one of the most comfortable
and affordable ways to decorate and entertain!
A rage everywhere from private homes to Tiki Bars - even hotel lobbies!
Buy wicker (and rattan) today - tell 'em Paddy sent ya!
Either you think - or others have to think for you and take power from you,
pervert and discipline your natural tastes, civilize and sterilize you.
- F. Scott Fitzgerald - Tender is the Night